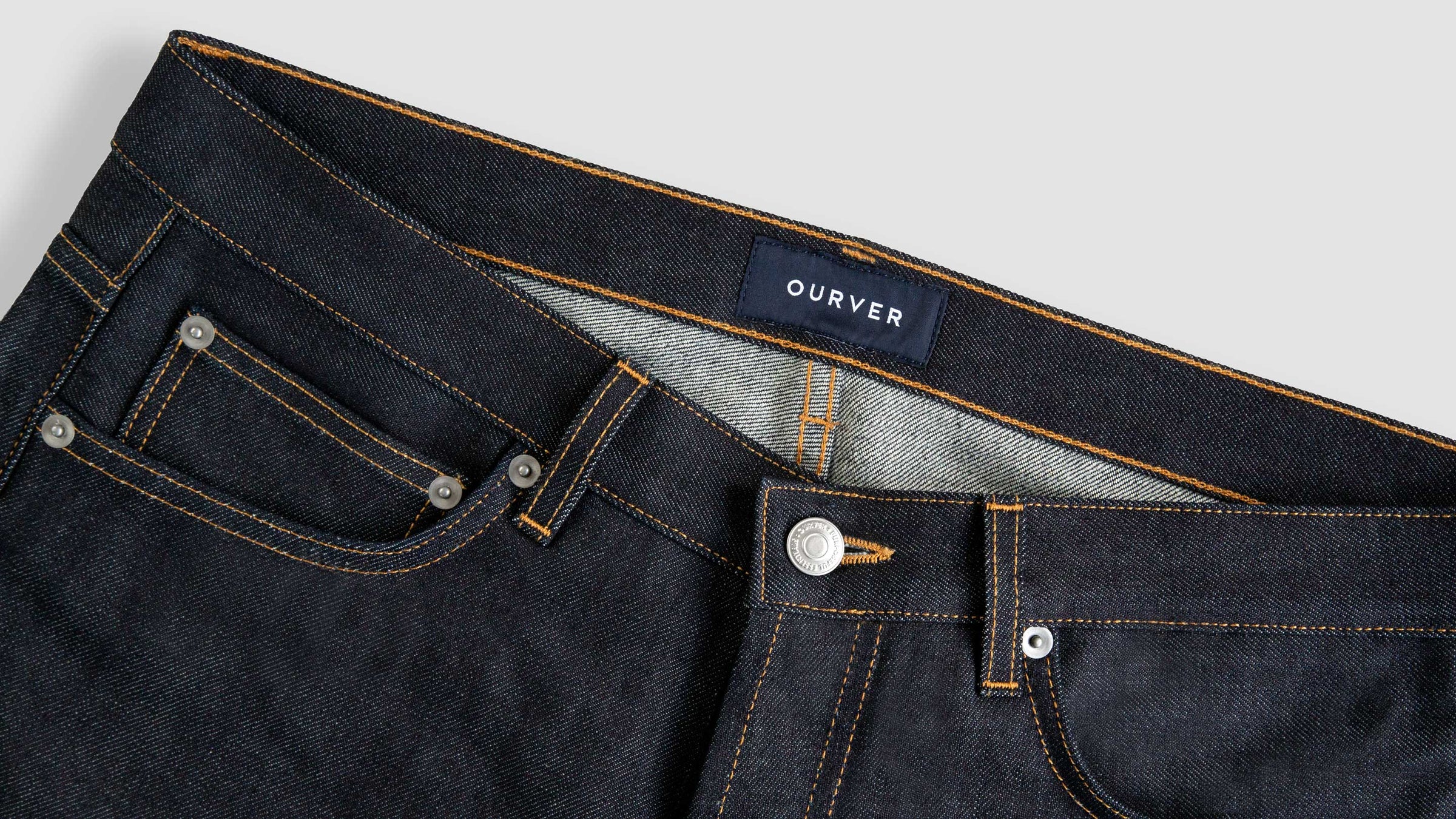 Denim Care & Washing
Firstly, there is no right or wrong way to go about caring and washing raw denim jeans, It pretty much depends on personal preference and the look you want to achieve. However, below are just a few pointers on how to get the best results from your jeans and help prolong their lifespan.
Laundry alone accounts for around 30% of the carbon footprint of clothing. So, it goes without saying that less frequent machine-washing and drying leads to bigger savings for both you and the planet.
The Beauty of Raw Denim
Raw or "Dry denim" as it is also known, is denim in its natural state and all denim fabric starts out this way before it's either pre-washed or pre-distressed. Instead of creating a worn-in look at the factory (effectively ageing the jeans prematurely), you get to break them in yourself. The process of owning, wearing and washing a pair of raw denim jeans really is a love affair and well worth the little extra effort. With time you'll get a personal pair of jeans with whiskers and fading, they'll become as unique to you as your fingerprint.
Bleeding
All raw denim is prone to bleeding. This means that the indigo dye can easily be transferred onto lighter coloured fabrics during wear as the denim has not been washed or treated after dyeing. To prevent bleeding we would recommend you wash the jeans once following one of our washing instructions before wear, but that kind of defeats the purpose of breaking them in. Therefore, we advise wearing darker clothes to avoid the indigo discolouring your brighter garments.
To Wash or Not to Wash
We recommend wearing your raw jeans as much as possible and for as long as possible to develop a nice worn-in look. It's usually recommended to delay washing until you've worn a new pair of jeans for six months. However, this is not always possible as there is a strong likelihood that they will become stained or worse, start to smell. So don't worry if you have to go early on that first wash, you will still end up with some unique signs of wear.
Spot treating stains, airing your jeans regularly and the use of denim refresher sprays are all good practices if you wish to wait as long as possible before washing.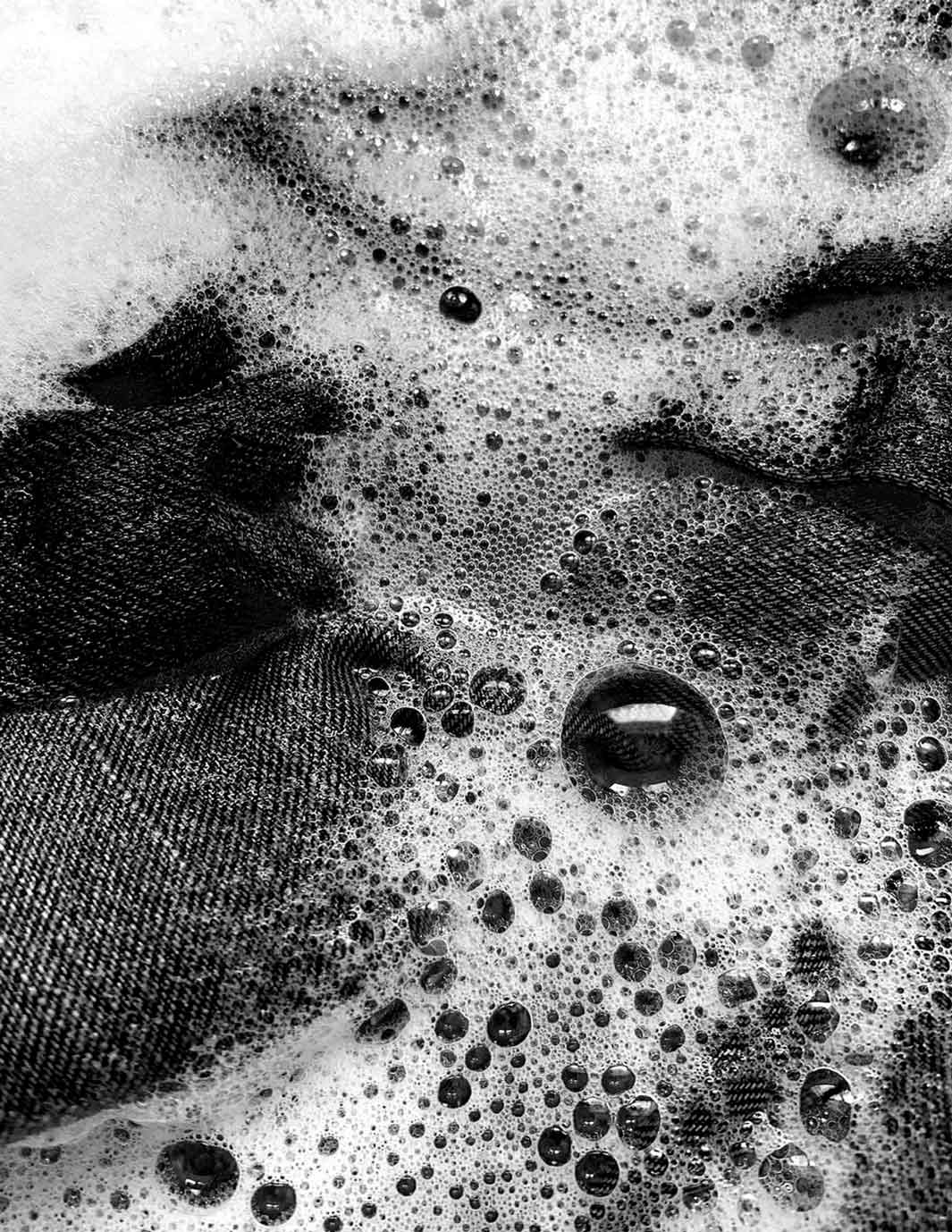 Hand Washing
Hand washing will have a gentler effect on your jeans and help maintain the indigo colour for longer.
1. If you have a turned cuff, roll these down and turn your jeans inside out.
2. Find a big bucket or use your bathtub to soak the jeans in.
3. Fill your bucket or bathtub with just enough warm or cold water to submerge the jeans.
4. Add a small amount of your preferred detergent to the water and mix well.

5. Submerge the jeans in the bucket or lay them out flat in the bathtub.

6. Agitate jeans gently to loosen up any dirt and grime.
7. Empty the bucket or bath and give the jeans a quick rinse to remove the detergent.

8. Smooth out any creases immediately to avoid unwanted marking.
9. Hang to dry outside.
Machine Washing
Machine washing will soften your jeans and wash out the indigo quicker than hand washing. Be sure to wash them on a very gentle cycle. Ultimately, you want is to lessen the mechanical movement to avoid any bad wash effects. This can be done by setting the spin to low and choosing a cycle such as "hand wash" or "gentle", most domestic washing machines have these settings.
1. Roll down cuffs and turn your jeans inside out.
2. Wash separately.

3. Select a handwash, gentle or denim wash cycle and set the temperature to a cool wash (30°C max) and ensure it uses the least amount of spinning possible.
4. When the washing cycle is complete, remove the jeans immediately and stretch out the inseam and waistband to minimize shrinking.
5. Smooth out any creases on the jeans to avoid permanent marking and let them hang to dry.
6. Do not tumble dry.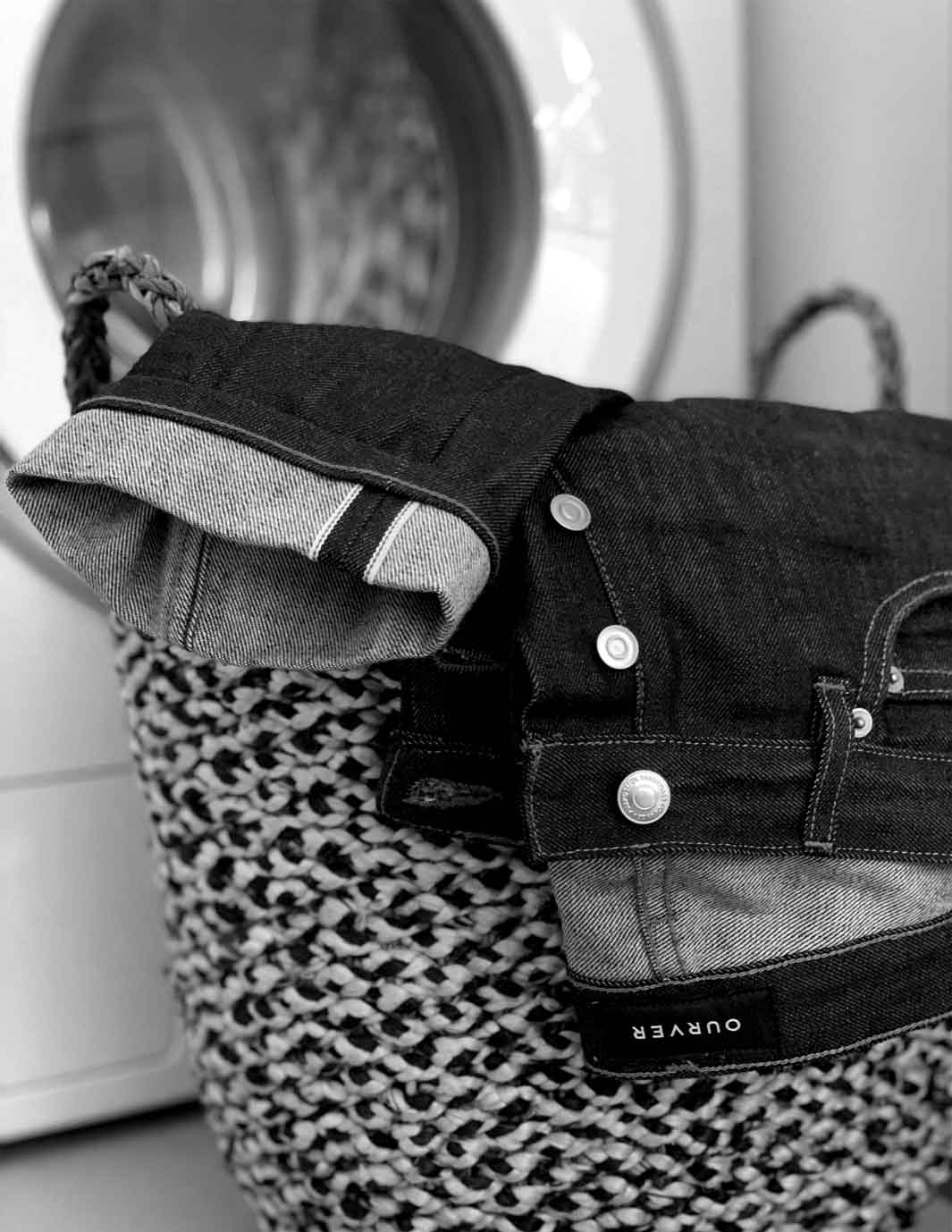 Stretching and Shrinkage
Our denim jeans are unsanforized, which means they are not pre-shrunk and have not received any treatments post-production before being sent directly for cutting and sewing. With this, there will be some shrinkage on the first wash, most noticeably in the leg length which will shorten by 1.5-2 inches (hence the reason we cut them slightly longer). Waist shrinkage is negligible, they'll tighten a little in the waist, but will loosen out again after wear.
To further minimize the amount of shrinkage, it's recommended to stretch the jeans thoroughly, both in the waistband and inseam several times during the drying process. Stretch them once directly after the wash and once when they're almost dry.
Eco-Friendly Detergents
There are many eco-friendly cleaning detergents for denim that offer a perfect wash at low temperatures whilst reducing their chemical impact. They will also help preserve the indigo in your jeans, keeping them darker for longer. Fabric sprays are great for neutralising bacteria and unwanted odours whilst between washes.